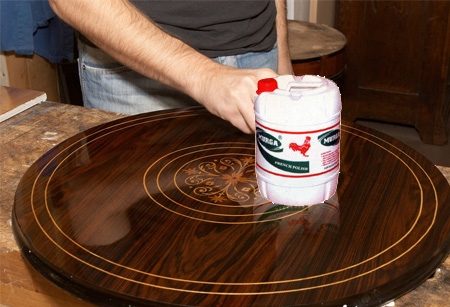 RTU
It is a nitrocellulose base single pack air dying product. It gives excellent finish and gloss to the satisfaction of customer. There is no need to add any thinner as we called it " Ready to Use ".
Application
On all type of Wooden Furniture such as Cupboards, Dinning Table, Kitchen Cabinet, Chairs, Almirah, Beds, Fancy Wooden Furniture and Interior Wooden Furniture.
Advantage
No need to use Sanding Sealer on the wooden piece as the product itself take care for the same.
Excellent resistance to Cold Water, Hot Water and Hot Coffee.
Compatible to Water Base Steiner/ Solvent Base Steiner.
Excellent Toughness & Mar Resistance.
Can be applied on any climatic condition as having very good moisture resistance.
Good flow and Levelling properties.
Technical Data
Solid Contents
21+ 0.5
Supply Viscosity
25+ 1 Sec. on Ford Cup B4 at 30 C.
Drying Time
Surface Dry = 5 min to 7 min
Tack Free = 50 min to 60 min
Hard Dry = 4 to 6 hrs.( Depends on Application.)
Gloss at 60 C
Minimum 35.0
Application Procedure
Sand the bare wooden surface with 120/180 Emery Paper. Then apply Murga's Steiner of desired shed as required. Sand the wooden surface with 220/320 Emery Paper.Now apply two coats of Murga's RTU ( Ready to Use) wet on wet. After one hour Sand by Emery Paper No.600 Then apply on coat of RTU if required or wax it.
Density of RTU
0.93 + 0.02