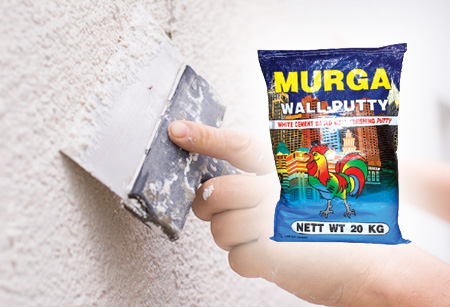 Wall Putty
Our Wall Putty is formulated by our in-house experts to give you an excellent smoothening technique. It is a premium quality putty, particularly used in constructions and projects where smoothness and fine finish are required. Wall Putty is recommended to be used for new and old surfaces, suitable for filling cracks, Joints, Leveling up uneven rough surfaces such as on concrete, cement walls, ceiling, asbestors boards, brick structures, GYP boards, wooden furniture and doors.
Material of Composition advantages
Ultra fine minerals
Biocides
Corrosion inhibitors
Additives
Handling & Storage
Store in a cool dry place
Protect from extreme climatic conditions such as frost, direct sunlight and rain during storage.
During transportation and at site "Premium Wall Putty" bag, if partially used, should be kept airtight.
Special Attributes & Packing
Convenient Paste form
No need to use primer so it reduces paint consumption
Anti-fungal property
No blistering on surface due to porous nature
Applications
Shopping complexes
Educational Institutions
Stadium
Museums
Offices
Trade & Technology parks
How To Apply
Before applying remove all loose particles, mould oil and cavities from wall.
Apply directly on the interior walls / surfaces using putty knife.
Keep thickness of coat at 1mm and allow it to dry.
Then apply 2nd coat also of 1mm thickness.
Very smooth surfaces do not require second coat
" Wall Putty" takes about 3-4 hours to dry before applying 2nd coat.
Leave 8 - 10 hours after applying 2nd and final coat.
Then lightly rub "0" number sand paper or a fine emery paper in circular movement on it. Remove the dust by clean cloth and apply any paint directly on " Wall Putty".
Packing
Available in presentation of 5 & 20 kg Bag