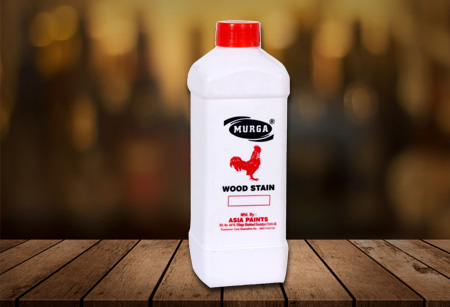 Wood Stainer
Murga's Wood Stainer is a self drying stainer in different shades such as:- Rose wood, Dark Red Mahagony, Wallnut, Teak, Touching, P.P, Dark Brown Oak, Expo Wallnut, Dark Indian Oak, etc etc. With the aid of stainer one can get the desired shades of. As all shades are transparent the grains & the originality of the wood remains unaffected even becomes more prominent. It is a quick drying solvent based, transparent dies and lead free product. Therefore can be used for export products as it is internationally accepted.
Properties
Murga's Wood Stainer has a very long life, shade always remain the same and never fades. It has high resistance to water and retain natural gloss of the shade.
Application
It is self drying and ready to use. It can be applied by spray, brush or cloth pad.
Drying time:- 10 to 15 minutes at 30degree Celsius.
The top coat application is recommended after 1 hour such as MURGA Sanding Sealer, MURGA Table Top Clear, and MURGA Melamine.